John Legend Burns GOP Lawmaker: 'Bro. Please Tell Me You're Not This Dumb'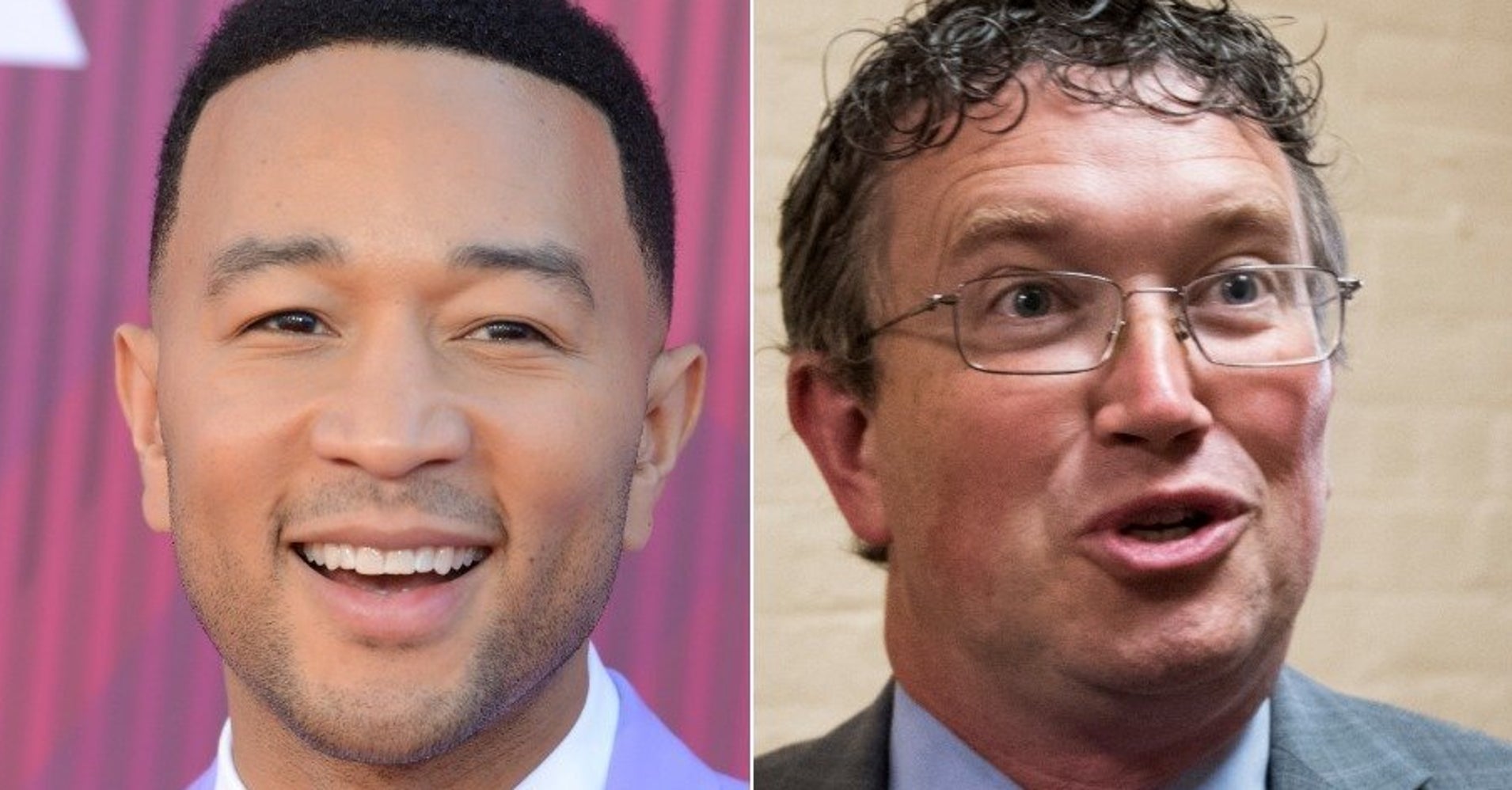 Rep. Thomas Massie (R-Ky.), who became a social media laughingstock over a failed attempt at a "gotcha" moment during a hearing with former Secretary of State John Kerry, is getting laughed at all over again.
When I asked Kerry if he had a science degree, he answered "no" but forgot to turn his microphone on. The left has been using his flub to conceal what this exchange proved which is Kerry admitted he doesn't have a science degree, even though his degree says "science" https://t.co/ZWqQOOJndA

— Thomas Massie (@RepThomasMassie) April 11, 2019
But instead of questioning Kerry's education, Twitter critics are questioning Massie's intelligence.
Bro. Please tell me you're not this dumb in real life. Please tell me you're joking.

— John Legend (@johnlegend) April 11, 2019
Next our great congressman will grill the high school Home Economics teacher on the Fed's monetary policy. "You profess to be an expert on Economics, do you???!!!!"

— John Legend (@johnlegend) April 11, 2019
SO MR. BURGER KING…..YOU CALL YOURSELF A KING EVEN THOUGH YOU HAVE NO KINGDOM? AND YET YOU HAVE "KING" IN YOUR NAME. 😎😎😎

— Stefan Sirucek (@sirstefan) April 12, 2019
Wait. I have a Bachelor of Arts degree, and I am NOT A BACHELOR NOR AN ARTIST. My whole life is a sham! 😱

— Allison Winn Scotch (@aswinn) April 12, 2019
Thomas Massey, crying in the rain: "Dr Dre doesn't even have a PhD!"

— Justin Pierce 🥧 (@justinpie) April 11, 2019
He's also married even though he has a bachelors degree! It's a double scandal!

— James Bates (@supwithbates) April 11, 2019
I have a Juris Doctor degree, and I'm not a doctor. Scandalous!!! 😱

— Leah Catherine (@MsLeahCatherine) April 11, 2019
A little advice: When you accidentally set yourself on fire don't add more gasoline.

— Matthew Dowd (@matthewjdowd) April 11, 2019
Published at Fri, 12 Apr 2019 03:05:35 +0000